OCBG Conference 2019
With another brilliant line-up of authors and speakers, including Janina Ramirez, Linda Newbery, Tom Palmer, and Bill Laar…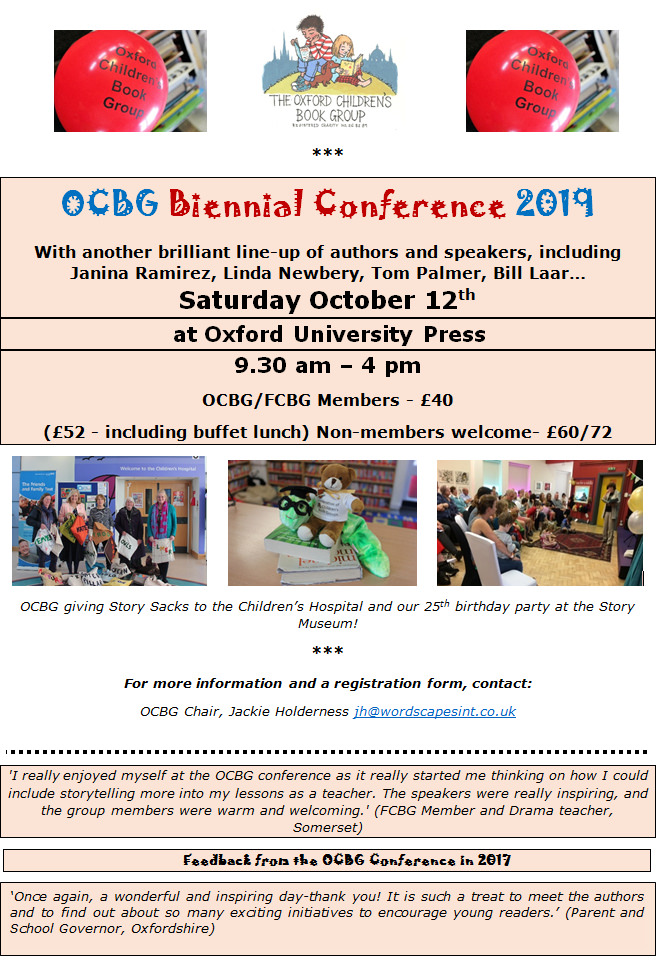 OCBG Conference 2019
Saturday October 12th 2019
Oxford University Press
9:30am – 4:00pm
50% Discount for students. Students will be asked to show their valid student ID.
Download the poster, programme and booking form in pdf format here or Word format here

2019 Federation Children's Book Award
Click here to see the shortlist and how to vote.
The Children's Book Award is the only national award voted for solely by children from start to finish. It is highly regarded by parents, teachers, librarians, publishers and children's authors and illustrators as it truly represents the children's choice. Thanks to the support of the publishers, over 1,000 new books are donated to be read and reviewed by our Testing Groups across the country every year, with over 150,000 total votes being cast in the process. At the end of each testing year, nearly 12,000 books are donated to hospitals, women's refuges, nurseries and disadvantaged schools by our groups.

Watch this space for more details of events happening in Oxfordshire in 2019
Book Swaps:
We hold regular Book Swaps for our school members If your school would like us to help you hold a Book Swap, to get the whole school reading, please let us know!"
School Visits:
Author/illustrator visits to member schools throughout the year, please contact us for details.