OCBG Conference 2019
Heroines and Heroes
Conference Update: Saturday October 12th
Dear OCBG Members and Supporters,
Please note that we have had to rejig the 12th October but we think we have salvaged the day to offer everyone a fascinating morning, with brilliant speakers and a raffle.
There are already over 25 delegates but it is not too late to sign up for an amazing extravaganza of children's books and their authors! If you have not registered, but you would like to do so, then please contact us
We have decided to make the occasion a morning event- 9.30 am -1pm. As a result, we will only charge £15 per head, to cover our costs.
The new venue is the Frideswide Room, in Christ Church College, St Aldates, in the city centre (park at Redbridge Park n' Ride, or Ice Rink or Westgate car parks). From the station, it is approx. 10-15 mins walk.
Please see below the revised schedule for Sat Oct 12th:
Heroines and Heroes
9:30am register in Frideswide Room (Christ Church- enter at Tom gate) and coffee
10:00am Key to Flambards (Linda Newbery interviewed by Kathy Le Maire)
10:40am Heroes of the past: the Viking mysteries (Janina Ramirez)
11:20am Coffee
11:35am Leo, a war-time hero (Patricia Murphy)
12:00pm Oxford's stories of heroism (Isy Mead/Jackie Holderness)
12:25pm Conclusion, plenary and Q's (Bill Laar)
12:55pm Evaluation. Raffle
13:00pm Lunch room available at Story Museum
(Everyone, including the committee, will buy their own lunch, except the speakers/interviewer who will be guests of OCBG).
Choose from:
Soup – carrot and coriander (Vegan and gluten free) (£5)
Frittata and salad (Vegetarian/dairy free) (£5)
Sausage roll or Cornish pasty with salad (£5)
Sandwiches – (£5.50)
ham, cheese, and tomato
Chicken, basil and mozzarella
Hummus and roast veg (Vegetarian)
Vegan cheese and roast veg (Vegan)
Salads – (£6.50)
with any 2 toppings vegan – hummus, falafel, roast vegetables, avocado,
Vegetarian + mozzarella, feta, cheddar
Meat – ham, chicken,
Topped with seeds, pomegranate and French dressing
With another brilliant line-up of authors and speakers, including Janina Ramirez, Linda Newbery, Tom Palmer, and Bill Laar…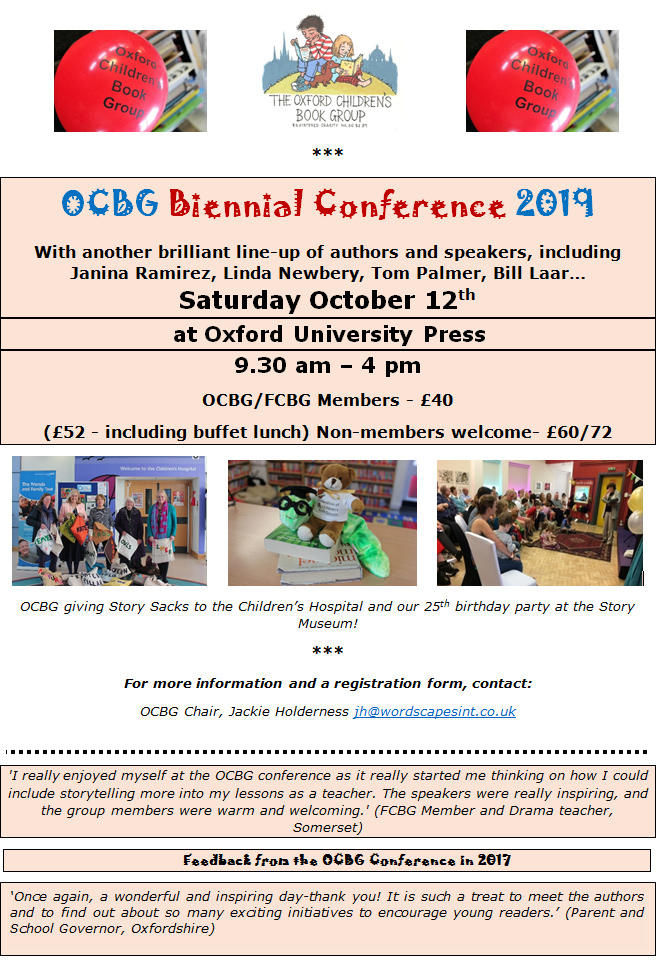 OCBG Conference 2019
Saturday October 12th 2019
Oxford University Press
9:30am – 4:00pm
50% Discount for students. Students will be asked to show their valid student ID.
Download the poster, programme and booking form in pdf format here or Word format here

2019 Federation Children's Book Award
Click here to see the shortlist and how to vote.
The Children's Book Award is the only national award voted for solely by children from start to finish. It is highly regarded by parents, teachers, librarians, publishers and children's authors and illustrators as it truly represents the children's choice. Thanks to the support of the publishers, over 1,000 new books are donated to be read and reviewed by our Testing Groups across the country every year, with over 150,000 total votes being cast in the process. At the end of each testing year, nearly 12,000 books are donated to hospitals, women's refuges, nurseries and disadvantaged schools by our groups.

Watch this space for more details of events happening in Oxfordshire in 2019
Book Swaps:
We hold regular Book Swaps for our school members If your school would like us to help you hold a Book Swap, to get the whole school reading, please let us know!"
School Visits:
Author/illustrator visits to member schools throughout the year, please contact us for details.